CROWFOOT.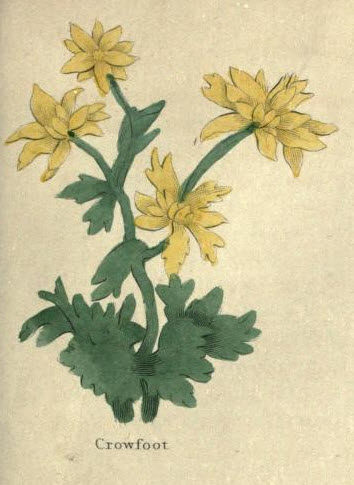 Crowfoot
Description:
Ranunculus Acris. It is also called Frogs- foot, Crowfoot, Gold Cups, King's Knob, Poults, Butter-flowers, and Butter-cups. The most common Crowfoot hath many dark green leaves, cut into divers parts, in taste biting and sharp, biting and blistering the tongue; it bears many flowers, and those of a bright resplendent yellow colour. They grow very common every where, especially in fields.
Herbal Remedies and Medicinal Uses of Crowfoot:
This fiery and hot-spirited herb is not fit to be given inwardly; but an ointment of the leaves or flowers will raise a blister, and may be applied to the nape of the neck to draw rheum from the eyes. The herb being bruised and mixed with a little mustard, raises a blister as perfectly as Cantharides, and with far less danger

Important Disclaimer: The information contained on this web site is for educational purposes only. It is not intended to diagnose, treat, or cure any diseases. Any information presented is not a substitute for professional medical advice and should not take the place of any prescribed medication. Please do not use this information to diagnose or treat a health problem or disease without consultation with your physician.

This page and the rest of the encyclopedia of medicinal herbs was reproduced from old herbals written in the 1700 and 1800s. They are of historical interest to show the traditional uses of various herbs based on folk medicine and ancient wisdom. However the traditional uses for these herbs have not been confirmed by medical science and in some cases may actually be dangerous. Do not use the these herbs for any use, medicinal or otherwise, without first consulting a qualified doctor.








Browse Herbs Alphabetically: A B C D E F G H I J K L M N O P Q R S T U V W X Y Z



Advertisement